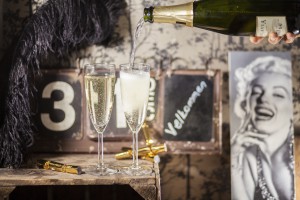 When you arrive we'll serve
Followed by your choice of main and dessert
MAINS
Lamb Chops: Served with sweet potato, vegetables and chilli mayo
Rib Eye Steak: Served with fries or sweet potato, vegetables and sauce
New Year's Burger
We also have vegetarian options. Contact us for more information
DESSERTS
Tiramisu or Creme brulee.
MIDNIGHT!
The New Year will be celebrated with champagne and marzipan ring cake (kransekage) for all the guests in the best Flottenheimer (spendthrift) fashion.
Price 395,-
A payment of 200 kr. deposit required at time of booking.
Please book before or on December 25th.
DJ & COCKTAiLS
The doors will be opened for additional guests at 11 pm, where after there will 2 special DJs and the bar will open up for drinks until 4 am.
RESERVATIONS
Dining guests can reserve a table from 7-9 pm.
Book at info@cafeflottenheimer.dk or call +45 35 38 32 12